---
MISTEDSKY
mist
COMMISSIONS
Commision status: CLOSED
For commission requests, fill out the form below and email it to me at misato.skies@gmail.com. Title should be Commision Request for (Your name or Social Media Username). By commissioning me, you agree with my Terms of Service.Character: (OC / fanart)
Type: (Bust / Thigh / Full / Custom)
References: (Artworks or design references of the character)
Requests: (Any specific requests for background elements, composition, pose, expression, canvas size and ratio etc.)
Paypal email for invoice:
Please make sure references adequately show the design and features of the character (for OCs). I currently do not design characters nor draw based on descriptions only.If you do not have any specific requests for background elements, perspective, lighting, mood etc, they will be decided by me to the best of my aesthetics and ability!
SUBJECTS
I can draw:
- OCs
- Fan art
I won't draw:
- Nsfw or nudity
- Hard gore
- Furries
- Robots
Subjects I am confident in:
- Flowers and trees
- Butterflies and birds
- Fantasy
- Underwater
- Girls or feminine boys
Subjects I am less confident in:
- Animals
- Muscular men
TERMS OF SERVICE
- Commissions will be for personal use only. Please contact me further if you are looking for commercial works or use.- I am allowed to choose to post the artwork on my social media unless stated otherwise.- I may decline the commission if I feel like I cannot deliver the commission well enough or that it doesn't suit my aesthetics.- Reposting or pfp usage is allowed as long as you provide credit/link to me. Reprinting for your own collection is allowed.- Refunds are allowed only if the commission has not been started on. Otherwise no refunds.- Payments will be made via PayPal. You will be sent an invoice by me. I start once a full payment is made. Once the high-res png file is sent and approved, please confirm receipt. Prices are in USD.- I will send you an initial sketch at the start. At this point you may request any changes. However, after this point, any major changes will incur additional fees.- You will receive a high-res png file of the artwork. The canvas will be at least 2500x 2500pi, 350ppi. Canvas size can be specified. Canvas ratio can be specified (A4, landscape, portrait, square or custom), otherwise I will decide it and tell you when I send the sketch.- It will take me roughly 1 to 8 weeks to complete the artwork, depending on my schedule and the complexity of the piece. For a deadline rush or priority commission, please contact me. Note that this will incur a rush fee.
PRICING
The (S) prices below are for plain background / character art. There may be a small fee for simple background details.The (F) prices below are for 'full' illustrations. These will have complete background elements and details, depth/perspective, lighting, atmospheric perspective etc.Prices can differ based on the complexity and crop of the piece. Complicated character design, outfits, accessories and / or weapons will incur additional fees.Additional characters (+70%) up to 2 characters.
(click to expand examples)
---
Full Body- $650(S)
$900+ (F)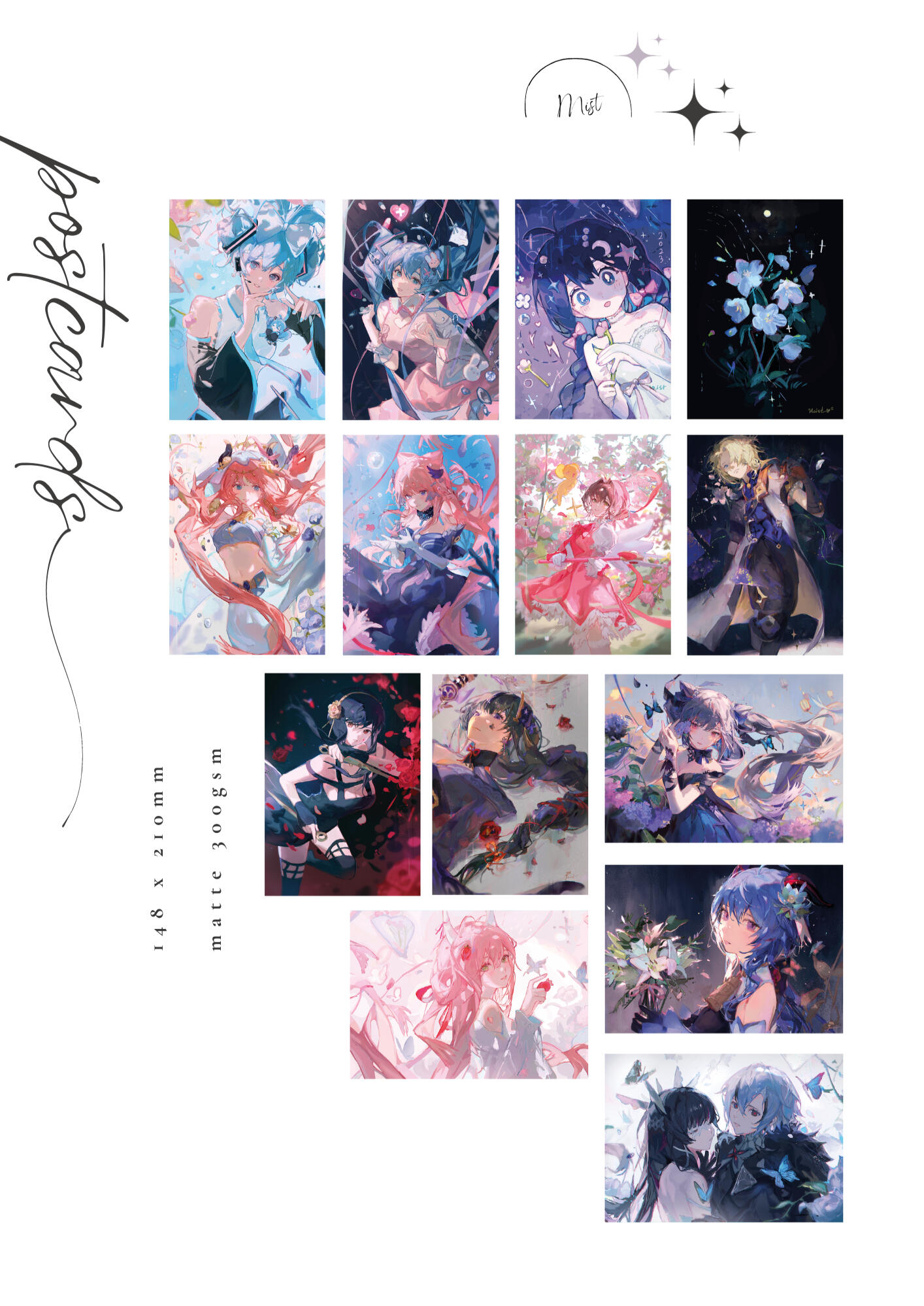 Hello!I'm mist, a self-taught illustrator. I enjoy painting soft and delicate scenes! Outside of art, I like to play rhythm games and spoil myself with cute stuff╰(✿´⌣`✿)╯♡
I hope my art can bring some joy, whether it's fan art or original works~
Use the form below for commissions, enquires or shop contact.